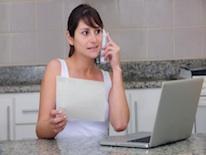 For-hire vehicle companies and operators offer services to millions of individuals a year within the District of Columbia. To ensure safety and service within the District, the Department of For-Hire Vehicles provides this platform for passengers and members of the public to file a complaint whenever a violation by a for-hire vehicle is alleged within the District.
When filing a complaint against a for-hire vehicle operator or owner, please include your name, mailing address, daytime phone number and email address. There are several methods to contact the Department of For-Hire Vehicles' complaints office:
The complaint should contain details concerning the incident including, date, time and information identifying the operator involved. To aid with identifying an operator, please provide any of the following: name, license and identification number (Face ID card), vehicle license tag, or personal vehicle identification number (PVIN) located on the dome light on the roof of the vehicle.
Once your complaint is received by the Department of For-Hire Vehicles, the complaint process begins. The for-hire vehicle complaint process consists of the following four stages (more information re: Complaint Process is attached bellow):
Acknowledgment Stage: You will receive an acknowledgment response from the Agency within seventy-two (72) hours. A case ID number will be provided to track the status of the complaint.

Investigation Stage: The complaint will be investigated to identify the operator involved. The operator will receive an invitation for a voluntary resolution conference with the Agency.

Resolution conference Stage: The Agency and the operator meet to discuss resolution of the complaint.

Closed Stage: You will be notified when a decision is reached on your complaint. If a hearing is required to adjudicate the matter, your cooperation through testimony is necessary. You will be contacted via email or telephone with the hearing date, time and location.
Discrimination by For-Hire Vehicle Operators or Companies is Illegal in the District of Columbia:
If you believe you have been discriminated against by an operator or company, please fill out Section II of Department of For-Hire Vehicles Complaint Form and your complaint will also be submitted to the Office of Human Rights. Filing a complaint with the Office of Human Rights is cost-free and does not require a lawyer. You can learn more at ohr.dc.gov.
Contact Email: [email protected]
Contact Phone: (855) 484-4966 or (202) 645-7300