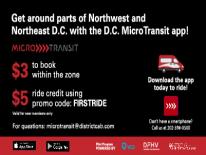 DC Microtransit is an exciting new ride service available in parts of Northwest and Northeast DC. For just $3, you can travel anywhere within the service zone. Add more riders for only additional $1. It's really simple. Just download the DC MicroTransit app for free...and new users get a $5 credit!
Hours of operation are Monday to Thursday from 8 am to 8 pm and Friday and Saturday from 8 am to 12 am. No service on Sundays. Credit card payments are accepted via the app and drivers also accept cash payments. If you don't have the app, just call (202) 398-0500 instead.
For more information visit DC Microtransit or email [email protected]. DC Microtransit will surely help you save some money and get you around town!