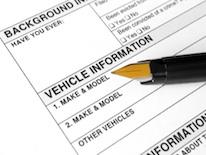 All public vehicles for hire licensed by the Department of For-Hire Vehicles must follow the following procedure to register or renew registration of a vehicle with the Department of Motor Vehicles.
Instructions:
Step 1. Vehicle owner downloads the One Stop Form.
Step 2. Vehicle owner completes Section 1. Insurance Representative and vehicle owner complete Section 2.
Step 3. Vehicle owner takes the Form and vehicle to DMV for Inspection.
DMV Inspection is not required for duplicate registration or insurance change if the last vehicle inspection certificate is still valid.
The signature of a taxicab company or limousine company officer is required on the One Stop Form for vehicles affiliated with a taxicab or limousine company.
Step 4. DMV Inspection Station Stamps and Dates the One Stop Form OR attaches Vehicle Inspection Report (VIR) with DMV Stamp and Date.
Step 5. Upon inspection, the vehicle owner brings to DFHV for approval: the stamped One Stop Form and VIR; along with four (4) color pictures of the vehicle to be registered. The pictures should be front & back and both sides with the PVIN visible in at least one picture.
Step 6. Vehicle owner takes the DFHV approved One Stop Form to the DMV service center for processing.
ALL REQUESTS MUST BE APPROVED BY DFHV PRIOR TO DMV PROCESSING DRIVER/OWNER WILL BE REFERRED BACK TO DFHV IF HE/SHE APPEARS AT DMV CUSTOMER SERVICE WITHOUT THE COMPLETED AND APPROVED ONE STOP FORM
Office Hours:
Monday to Friday, 8:30 am to 4:30 pm, except District holidays. Applications accepted until 3:30 pm.